Report of Symposium
  PublishDate:2007-05-22  Hits:2186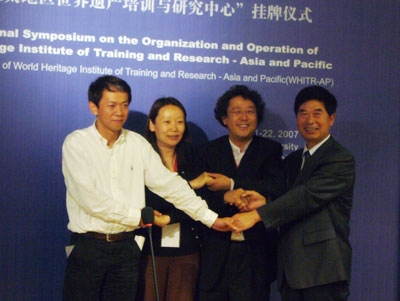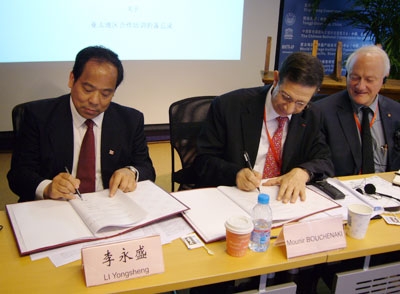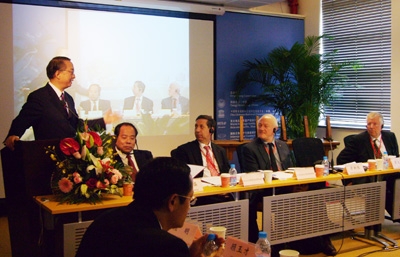 From May 21st to 22nd 2007, International Symposium on the Organization and Operation of World Heritage Institute of Training and Research - Asia and Pacific and Opening Ceremony of World Heritage Institute of Training and Research - Asia and Pacific was held successfully in Tongji University. We were honored to have so many distinguished guests attending this symposium, such as H.E. Mr. Xinsheng ZHANG (Vice Minister of Education, Chairman of Chinese National Commission for UNESCO, Chairman of executive board for UNESCO), H.E. Mr. Francesco Bandarin (Director of the UNESCO World Heritage Centre), H.E. Prof. Mounir Bouchenaki (Director-General of ICCROM), H.E. Prof. Michael Petzet (President of ICOMOS), and Mr. Yiping LI, Deputy Secretary-General of Shanghai Municipal Committee, etc. This event was also greatly supported by Chinese National Commission for UNESCO, Ministry of Construction, Ministry of Education, State Administration of Cultural Heritage, Urban planning society of China, Shanghai Urban Planning Administration Bureau, Tsinghua University, Peking University, Suzhou University, Southeast University and many other relative institutes and universities both at home and aboard.

During the opening ceremony, H.E. Mr. Xinsheng ZHANG and H.E. Mr. Francesco Bandarin unveiled the three branch centers of WHITR-AP, of which WHITR-AP (Shanghai) is responsible for cultural heritage conservation; WHITR-AP (Beijing) takes charge of natural heritage conservation and WHITR-AP (Suzhou) is in charge of handcrafts and traditional skills.

While in the opening, Memorandum of Understanding (MOU) was signed between world heritage institute of training and research – Asia and Pacific (Shanghai) (WHITR-AP, Shanghai) and ICCROM, and we also received the congratulating message from Nordic World Heritage Foundation (NWHF) with initial cooperation desire as well as other relative heritage conservation institutes in Asia and Pacific region, which have all laid a good foundation for the development of training, research and management of the Institute.

During the symposium, the experts have had discussions mainly on the following two aspects:
First Part is about the future operation of WHITR-AP, including experience in training of cultural heritage conservation of international institutions, trends and needs of heritage conservation training, and development priority of Asia and Pacific regions in the world heritage global training strategy,etc. Second part is about the exchanging of experience in the field of cultural heritage conservation, including the implementation of the global strategy of the World Heritage Convention, the conservation and development of world cultural heritage in China, and the conservation and planning for historic cultural towns and villages, etc.

These precious advice and suggestions would certainly play a positive guiding role in the future training, research and management of the Shanghai Institute. And the initial cooperation relationships will help the integration of cultural heritage conservation resources in Asia and Pacific Region as well as improve the overall standard of world heritage conservation.

Although the symposium just lasted two days, all the participants and experts have shared with each other the valuable experience and lessons in world heritage conservation on a worldwide basis. Succeeding to the goals of the symposium, WHITR-AP will enter a new historic period for world heritage conservation, and will make great efforts in providing more professional training courses, more extensive research programs, and more effective management for the world heritage conservation work in Asia and Pacific regions, always hoping to contribute more to the world heritage conservation cause.