The Second Coordination Meeting of Category 2 Centres Held in Italy
From:WHITRAP Shanghai Author:LI Hong  PublishDate:2012-02-05  Hits:2527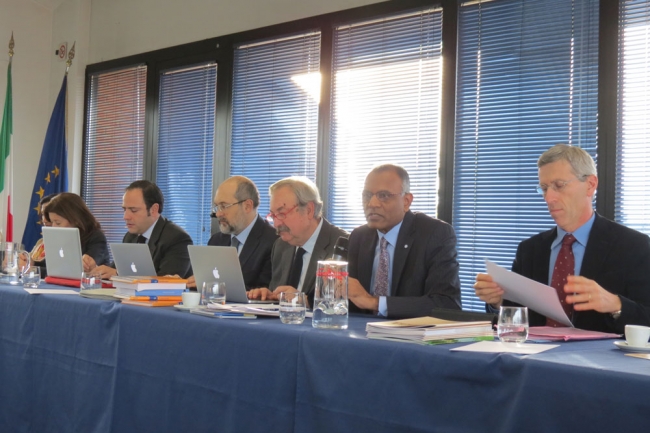 The Second Coordination Meeting of Category 2 Centres (C2Cs) for World Heritage took place in Milan, Italy, on 22 and 23 January 2012, hosted by the International Research Centre on the Economics of Culture and World Heritage Studies (Turin Centre) and the University Institute for Modern Languages (IULM University), with the participation of representatives of eight existing C2Cs associated to World Heritage, as well as of the World Heritage Centre and the Advisory Bodies.
During the meeting, WHC re-emphasize the C2Cs' responsibility of enhancing the implementation of World Heritage Convention and recalls the background of a number of important developments that concern the World Heritage Convention. These include: "Strategic Action Plan for the Implementation of the Convention, 2012-2022"; The celebration in 2012 of the 40th Anniversary of the World Heritage Convention, with as its official theme: "World Heritage and sustainable development: the role of local communities"; the amendment of the Operational Guidelines for the Implementation of the World Heritage Convention in 2011, to include reference to sustainable development"; The larger initiative led by UNESCO to promote the role of culture for development, stemming from Resolution of the UN GA"; 2012 the UN Conference on Sustainable development in Brazil and The recently adopted Strategy for Capacity Building (2011). Afterwards, the Adversary Bodies, ICOMOS, ICCROM and IUCN, explain the above-mentioned resolutions respectively and highlight C2Cs should play a leading role in regional capacity building strategy. Regarding to these topics, the representatives response their opinions and their relevant development plan.
On the other hand, Dr. KONG Ping, International Project Coordinator and Ms. LI Hong, Program Specialist, have bilateral or multilateral dialogue with other representatives from C2Cs and have agreements in some way.