Call for Entries: 2019 UNESCO Asia-Pacific Awards for Cultural Heritage Conservation
  PublishDate:2018-12-18  Hits:2137
UNESCO celebrates 20 years of outstanding conservation practices in the Asia-Pacific region
17 December 2018, BANGKOK – Submissions are now being accepted for the 2019 Asia-Pacific Awards for Cultural Heritage Conservation.
The upcoming cycle will mark the 20th year of the Awards honouring best conservation practices in the Asia-Pacific.
The UNESCO Asia-Pacific Awards for Cultural Heritage Conservation recognizes exemplary efforts by individuals and organizations to restore or conserve structures, places and properties of heritage value in the region. It aims to encourage other property owners to undertake conservation projects within their communities, either independently or by seeking public-private partnerships.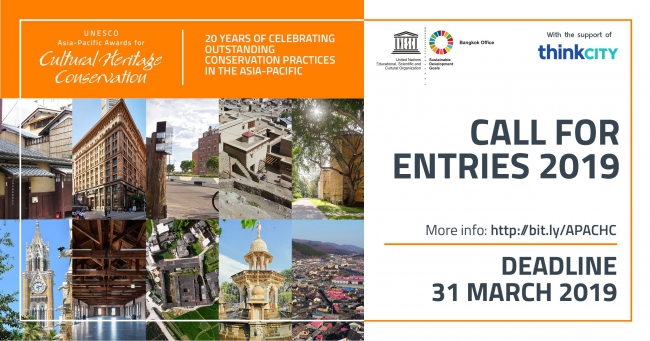 Since 2000, the Awards have recognized 233 winners from 21 countries for their thorough understanding of the places, sound technical achievements, and significant social and policy impacts at the local, national and regional levels. By recognizing these practices, the Awards have contributed to meaningful achievements in changing the conversation about what constitutes cultural heritage, who has a stake in its stewardship, and how cultural heritage can contribute to the sustainable well-being of cities, societies and the environment.
UNESCO will celebrate these 20 years of success through a regional event organized in partnership with Think City, a leading community-based urban regeneration organization based in Malaysia. Interested young professionals and members of the public are encouraged to communicate with UNESCO Bangkok for further information via the contact details below.
The deadline for receipt of materials is 31 March 2019.
To apply for the 2019 Awards and for relevant resources, please visit:
http://bangkok.unesco.org/content/apply-awards
For further details on previous winners, please visit:
http://bangkok.unesco.org/content/winning-projects
Think City is a community-focused urban regeneration organization established in 2009. Its first task was to rejuvenate the World Heritage city of George Town, Penang. Think City works closely with local governments, international agencies and various local communities, building effective partnerships and enhancing capacity along the way.
The partnership for the Heritage Awards builds on long-standing cooperation between UNESCO and Think City in promoting best practices in conservation in the Asia-Pacific region.
For more information on project submission, please contact:
Culture Unit, UNESCO Bangkok
Tel: (66 2) 391-0577 Ext. 509
Fax: (66 2) 391-0866
Email: heritageawards@unesco.org
For media inquiries, please contact:
Jeremy Walden-Schertz, UNESCO Bangkok Media Officer
Tel: (66 2) 391-0577 Ext. 347
Email: jc.schertz@unesco.org