2020 HeritAP Webinar "Impact of COVID-19 on World Cultural Heritage Sites and Moving Forward"
  PublishDate:2020-11-16  Hits:3996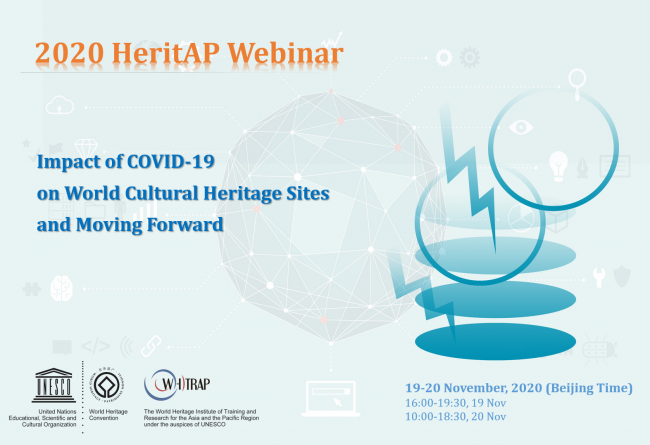 WHITRAP Shanghai holds 2020 HeritAP Webinar "Impact of COVID-19 on World Cultural Heritage Sites and Moving Forward" on 19-20 November 2020 (Beijing time)
The World Heritage Institute of Training and Research for Asia and the Pacific Region (WHITRAP) is a Category 2 Institute established under the auspices of UNESCO. The Institute's mission is to strengthen the implementation of the World Heritage Convention in Asia and the Pacific Region, by building the capacity of all involved with World Heritage site inscription, protection, conservation and management, through training, research, the dissemination of information and network building. Networking is explicitly mentioned in the mandate of WHITRAP, in recognition of the important role it plays in enabling the institute to achieve its objectives, as well as the benefits it brings to the heritage sector more broadly.
With this objective in mind, WHITRAP Shanghai initiated HERITAGE Asia-Pacific (heritAP) in 2019, a network that aims to foster the sharing of knowledge and experiences among individuals and institutions in the Asia-Pacific Region.
Since the beginning of 2020, the COVID-19 pandemic has had a detrimental effect on every aspect of human life, leading to not only economic recession and social turmoil, but also cultural stagnation. Considering that the pandemic crisis needs to develop new requirements for the sustainability and resilience of World Heritage Sites, WHITRAP Shanghai intend to reflect on the impact of the pandemic on World Heritage Sites, to seek ways to adapt to the new situation, and to generate a discussion nationally and internationally. As such, WHITRAP Shanghai decided to hold the 2020 HeritAP Annual Meeting online titled "Impacts of COVID-19 on World Heritage Sites and Moving Forward". WHITRAP invites scholars, staff, experts, national management authorities affiliated to World Heritage and those form the tourist industry to the symposium. The speakers share their insights on the following topics: the difficulties encountered during the pandemic situation; measures taken in management; positive and negative changes caused by the pandemic; and the resilience and sustainability of heritage sites.
The first session was already held with the support of the Chinese Academy of Cultural Heritage with the participation of 169 site managers/ staff from the Cultural World Heritage sites in China and exchanged their experiences on November 3-5 in Hangzhou, China. The second session targets Asian countries to continue discussing and sharing their perspectives on the above topic. The symposium is supported by WHC, ICCROM, WHITRAP friends and HeritAP members.
In order to ensure a smooth internet, pls. register through the following link and we will share the ZOOM room with you by email:

https://www.wjx.cn/jq/97351057.aspx
Thank you in advance for your interest and engagement!
Attachment:

Session 2 - Schedule 1119