NCCH – WHITRAP Shanghai Capacity Building and Technical Assistance on Management for World Heritage in Mongolia
Release date :2022-10-18
Views: 2785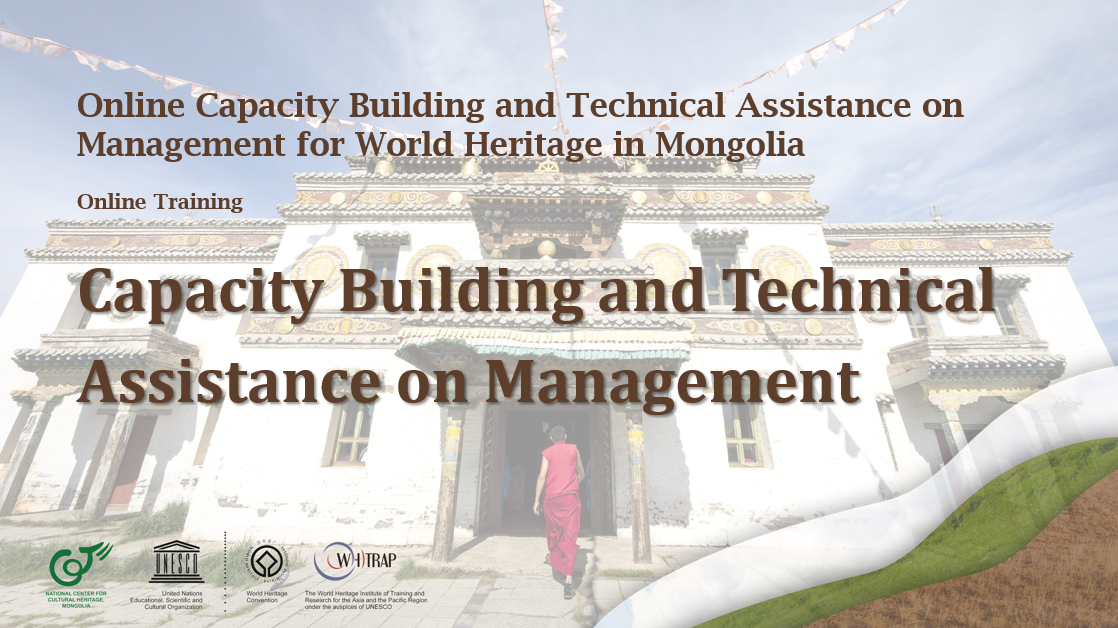 Organizers
National Center for Cultural Heritage under the Ministry of Culture of Mongolia (NCCH)
World Heritage Institute of Training and Research in Asia and the Pacific Region, Shanghai (WHITRAP Shanghai)
Background
As stated in the State of Conservation Information System (SOC) of the World Heritage Centre, management systems/ management plan is one of the largest factors affecting world Heritage properties. It is imperative to carry out conservation and management practices for world heritage sites in a bid to preserve the vital cultural and natural values and benefit future generations.
The World Heritage Capacity Building Strategy also underscored key themes related to management of properties including management effectiveness; strengthening legal and administrative frameworks at the national level; better integration of World Heritage processes into other related planning mechanisms, among others.
In 2022, to promote capacity building activities in the conservation of cultural heritage in Mongolia, NCCH formed partnerships with WHITRAP Shanghai and signed the Cooperative Project Agreement related to the implementation of capacity building activities in the conservation of cultural heritage in Mongolia, particularly in relation to World Heritage.
The capacity building activity is designed as online modules, with a hybrid model that includes pre-recorded video lectures, and on-line meetings to discuss questions and issues raised through presentations centered in analysis on the case of the Great Burkhan Khaldun Mountain and its surrounding sacred landscape and other World Heritage properties in Mongolia. The activity aims to:
• Understand the World Heritage Convention, key concepts, and statutory processes.
• Promote awareness of and better understanding of conservation and management of World Heritage Properties.
• Understand and develop management approaches and options for WH properties in Mongolia.
• Review current state of World Cultural Heritage properties in Mongolia and existing management challenges and identify potential responses to concerns raised by the World Heritage Committee in relation to the management of World Cultural Heritage in Mongolia.
• Contribute to professional capacity building to support the development and operation of management systems at WH properties.
• Provide skills and knowledge to heritage practitioners to successfully design and implement management plans/ systems.
Working Language
English-Mongolian
Target Audience
Staff from the Administration Office of World Cultural Heritage sites in Mongolia
Correspondence
Ms. SARUUL (Saku) Arslan
Specialist, World Heritage and Living Heritage
Email: saruul@ncch.gov.mn
Ms. Hong LI
Program Specialist, WHITRAP Shanghai
Email: h.li@whitr-ap.org
Downloads
| | | | | |
| --- | --- | --- | --- | --- |
| No. | Name | Content | Language | Download |