Job Vacancy: Deputy Director of the World Heritage Institute of Training and Research for the Asia and the Pacific Region under the auspices of UNESCO, Shanghai Center
  PublishDate:2015-08-01  Hits:3525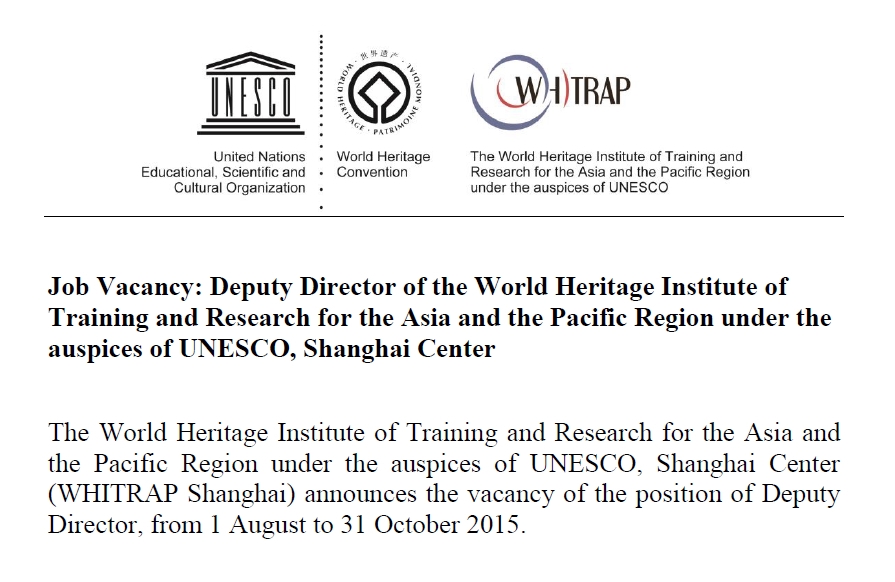 About WHITRAP Shanghai
The WHITRAP is a non-profit organization specialized in the area of heritage conservation. Furthermore, as a category 2 institute under the auspices of UNESCO, it is the first one that established in the developing countries. It is an autonomous institution at the service of Member States and Associate Members of UNESCO. The Institute's mission is to strengthen implementation of World Heritage Convention in the Asia and the Pacific region, by building the capacity of all those professionals and bodies involved with World Heritage site inscription, protection, conservation and management in the Asia and the Pacific region, through training, research, the dissemination of information and network building.

WHITRAP has three branches, Beijing, Shanghai and Suzhou.

WHITRAP Shanghai located at Tongji University, Shanghai, P.R. China. It is responsible for the Cultural Heritage conservation, including the sustainable protection and development of historic villages, towns and cities, preservation of buildings, monuments, sites and cultural landscape etc.
 
Position Description

Main Tasks include:
1. To develop, in close collaboration with the Director of WHITRAP Shanghai and under his/her supervision, plans for leadership, staffing and infrastructure for WHITRAP Shanghai based on a Strategic Plan, aligned with UNESCO's priorities in the Asia-Pacific region;

2. To strengthen WHITRAP Shanghai's research capacities, convene global expertise and disseminate findings in the fields of preservation and conservation, with strategic emphasis on Historic Urban Landscapes and the implementation of UNESCO's 2011 Recommendation on the subject.

3. To work with faculty and students of Tongji University to establish a program of applied research using innovative approaches for the conservation, analysis, management and sustainable development of cultural and natural heritage assets, including World Heritage.

4. To establish working relationships with key heritage conservation organizations and institutes, inside as well as outside Mainland China;

5. To develop and implement the plan for interdisciplinary faculty collaboration with visiting global scholars and fellows, experts, professionals and students.

6. To inspire, motivate and supervise WHITRAP's staff, as well as Master and PhD-students at Tongji University in the theory and practice of heritage conservation, historic cities management and sustainable development.

7. To identify new sources of funding and promote cooperation for research, planning, design and outreach activities in collaboration with Shanghai Tongji Urban Planning & Design Institute (TJUPDI).  

Qualifications and Experience:

Education
 An advanced degree, preferably at PhD level, in one of the fields relating to Cultural Heritage Conservation such as: archeology, architecture, urban planning, cultural management or human and social sciences.

Professional Experience:
 Minimum of 10 years of relevant professional and practical experience in cultural heritage conservation or management.
 Knowledge of the World Heritage Convention is required.
 Knowledge and practical experience in Asia and the Pacific region is required.
 Working experience at World Heritage Center, an international, regional organization, or holding full professorship at well-known universities is preferred.

Skills:
 Mastering in English, and proficiency in French is preferred.
 Ability to work and collaborate with a wide range of stakeholders and partners.

Age
According to Chinese Labor Law, the employer can not hire a foreigner more than 60.

Employment:
The candidate can indicate the expected salary in application file and the salary will be discussed face to face.
The initial appointment is for three years, including a probationary period of 6 months, and is renewable subject to satisfactory performance.

Application:
All applicants should submit their CV and two recommendation letters to Ms. LU Wei w.lu@whitr.org. Deadline is extended to 31 December 2015.

Job Vacancy - Deputy Director WHITRAP Shanghai