2018 Asia-Pacific Regional Meeting of National Commissions for UNESCO
  PublishDate:2018-09-20  Hits:1956
2018 Asia-Pacific Regional Meeting of National Commissions for UNESCO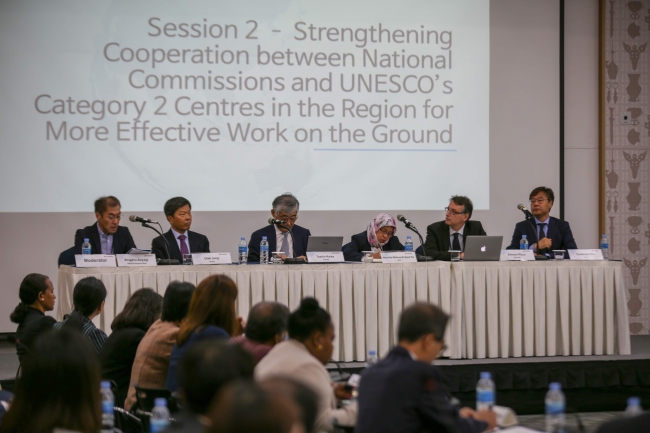 Category 2 Centres Session © Korean National Commission for UNESCO 2018.
UNESCO is the only UN Agency to have a global network of cooperating national bodies — known as 'National Commissions for UNESCO' — that make part of the overall constitutional architecture of the Organisation. Set up by their respective governments in accordance to Article 7 of the UNESCO Constitution, the National Commissions (Natcoms) operate on a permanent basis for the purpose of associating their governmental and non-governmental bodies in education, sciences, culture and communication with the work of the Organisation.
Strong and effective National Commissions are an invaluable asset to UNESCO promoting UNESCO's visibility at the country level. Acting as agencies of consultation, liaison and information, and mobilising and coordinating partnerships with national partners, the National Commissions make substantial contributions in the advancement of UNESCO's objectives, and in the achievement of the UN's Sustainable Development Goals within each Member State. The 2030 Agenda for Sustainable Development, adopted by the international community in 2015, gave UNESCO a clear mandate in its fields of competence to meet the Sustainable Development Goals (SDGs) and imposes a global redefinition of the activity of the National Commissions.
The Asia-Pacific Regional Meeting of National Commissions for UNESCO, organised by the Korean National Commission with UNESCO Bangkok Regional Office from September 19th to 20th in Gyeongju, Republic of Korea, aimed to address a set of topics relevant to the region, and to the role of UNESCO in the framework of the on-going UN reform.
The Regional Meeting was attended by approximately 40 representatives from Asia-Pacific National Commissions, and representatives from a selected group of Category 2 Centres active in the region in the sectors of Education, Sciences and Culture.
WHITRAP was invited to share its best practices and projects in the meeting. Simone Ricca's presentation focused on the work carried out by the Institute in the past years and underlined activities that could favour the development of collaboration projects with Natcoms across the Asia-Pacific Region.
The three-day conference proved to be an important moment of exchange and debate amongst Natcoms, C2Cs, UNESCO Regional Offices and UNESCO headquarters. At the end of the meeting, the participants outlined a relevant document, the Gyeongju Recommendation, that addresses: the partnership between Natcoms and UNESCO, the cooperation between Natcoms, the establishment of guidelines for the functioning of Natcoms, the role of the Natcoms in UNESCO Strategic Reform, the role of the UNESCO Secretariat, and the collaboration with UNESCO Category 2 Centres.