The Historic Urban Landscape approach-Online Seminar
  PublishDate:2020-10-19  Hits:1874
Online seminar
WHITRAP-Shanghai, 23-24 October 2020
The Historic Urban Landscape approach – integrating urban heritage conservation with urban development in planning processes in Asia.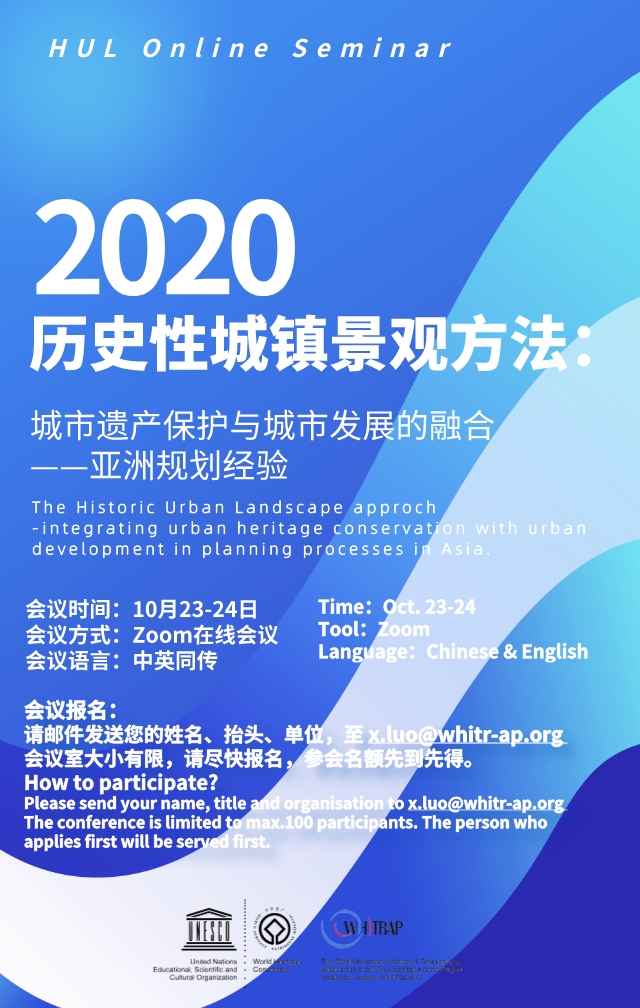 The UNESCO Historic Urban Landscape Recommendation (HUL) addresses "the need to better integrate and frame urban heritage conservation strategies within larger overall sustainable development goals, doing so in order to support public and private actions aimed at preserving and enhancing the quality of the human environment. It suggests adopting a landscape approach to identify, enhance and manage historic areas within their broader contexts, by considering the interrelationships between their physical forms, their spatial organizationand conservation, their natural features and settings, and their social, cultural and economic values."
This seminar will discuss ways to build on retaining heritage values and improving urban liveability in fast-growing cities. The Historic Urban Landscape approach is a major theme for WHITRAP Shanghai. The Institute, as a UNESCO Category II Centre, has been actively involved in advocating for and applying the Recommendation, through expert meetings, seminars, training sessions, city pilot programmes and publications. This seminar continues WHITRAP's endeavour of promoting the HUL approach.
Focus
The crucial role of heritage and culture at large within development processes has become part of international agendas including the United Nations 2030 Agenda for Sustainable Development, adopted in 2015, and the New Urban Agenda, adopted in 2016 at Habitat III, in Quito. Meanwhile, UNESCO's Culture: urban future; global report on culture for sustainable urban development, released in 2016 at Habitat III, lays out a people-centred approach, referred to as the "3-Ps" (people, places, and policies), which further stresses the importance of including culture in urban policies.
This two-day seminar will focus on the HUL objective of integrating urban heritage conservation and urban development through planning and urban policies in an Asian context. It will look into overcoming the traditional distinction between development and conservation, presenting examples that promote a more holistic approach to urban development. The aim is to showcase projects and initiatives where integration has been successfully achieved in Asian cities. There will be three sub-themes: (1) liveability, (2) urban forms, and (3) governance structure.
Key issues
The modernisation of living conditions in fast-growing cities in historic and new districts (including designated World Heritage cities) is a major issue worldwide.
As described in the HUL Recommendation, "rapid and uncontrolled urbanisation […] may frequently result in social and spatial fragmentation and in a drastic deterioration of the quality of the urban environment and of the surrounding rural areas. Notably, this may be due to excessive building density, standardised and monotonous buildings, loss of public space and amenities, inadequate infrastructure, debilitating poverty, social isolation, and an increasing risk of climate-related disasters. Urban heritage, including its tangible and intangible components, constitutes a key resource in enhancing the liveability of urban areas, and fosters economic development and social cohesion in a changing global environment."
As the future of humanity hinges on the effective planning and management of resources, conservation has become a strategy to achieve a balance between urban growth and quality of life on a sustainable basis.
The challenge is "how?"
More nuanced approaches are required, which can improve the liveability of today's cities as well as those of the future. What decision-making, planning processes and other tools make it possible to harness heritage in dynamic sustainable city development, aligning social and economic goals – the drivers of change – with the goals of conservation? How to ensure heritage values and their intrinsic qualities have a positive impact on the upgrading of historic areas and also on the design of contemporary development projects?
To do so, this seminar will consider areas which may seem distant from conservation-related issues but which, in practice, directly influence urban development decision-making and urban project design. De facto, these areas are used (or not) to directly safeguard heritage values and improve living conditions. The seminar will encourage peer-to-peer discussions between all participants involved in the making of today's urban environment. Case studies and examples will be provided which build upon the four tools of the Historic Urban Landscape, (a) civic engagement tools, (b) knowledge and planning tools, (c) regulatory systems, (d) financial tools.
Expected outcomes
The expected outcome of the seminar is to further disseminate the HUL approach in the Asia region and to provide examples of diverse integrated approaches, which can feed into planning practices, project design and governing mechanisms to ensure the safeguarding of heritage values and qualitative new developments.
How to participate?
---------------------------------------------------------------------------------------------------------
Due to the current COVID-19 situation, the seminar will be held online by Zoom.
For more information about Zoom, please visit: http://zoom.us
---------------------------------------------------------------------------------------------------------
Please send your name, title and organisation to x.luo@whitr-ap.org
The conference is limited to max.100 participants. The person who applies first will be served first.