The Training of Resource People on Impact Assessment in a World Heritage Context
Release date :2023-05-16
Views: 1751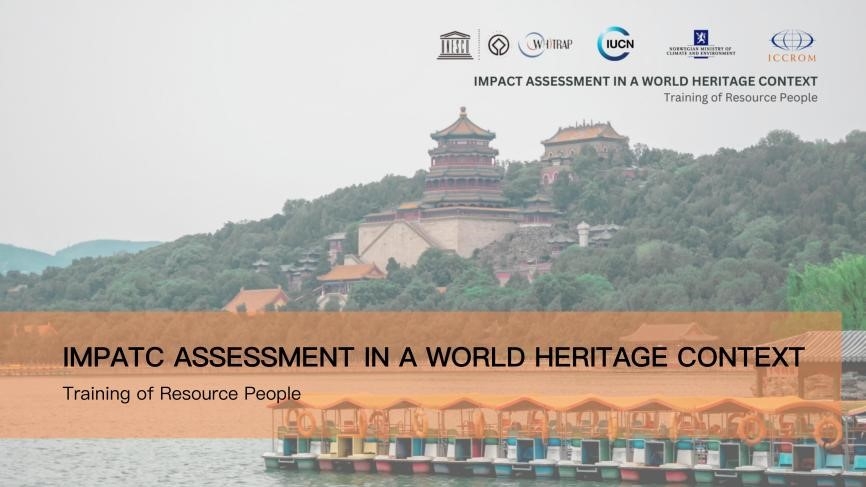 Date: May 8-10, 2023
Organizers: ICCROM-IUCN World Heritage Leadership(WHL)
World Heritage Institute of Training and Research in Asia and the Pacific Region, Shanghai (WHITRAP Shanghai)
Background: In recent years, the UNESCO World Heritage Committee has examined a considerable number of State of Conservation reports related to potential threats from various types of large‐scale development activities at or near World Heritage properties, as well as other significant types of change. These activities include infrastructure development – including for example new buildings, housing and commercial projects - urban renewal projects, and changes to the land use, some of which are insensitive or inappropriate. The Committee has also examined threats from excessive or inappropriate tourism, among other recurring concerns. Many of these activities have had the potential to impact adversely on the Outstanding Universal Value (OUV), including integrity and authenticity, of the properties inscribed on the World Heritage List. The World Heritage Committee has seen the impacts of these factors in considerable numbers of State of Conservation Reports and have been requesting impact assessments to inform decision making for many years.
To date, impact assessment (IA) has been used primarily to inform decisions around one-off development projects, but it is increasingly recognized that the methodology IA represents could feed into all areas of heritage decision-making and shape everyday heritage management practice. The World Heritage Convention has compelling potential for conserving nature and culture, whilst addressing the pressing challenges of climate change, disaster risk management and gaining benefits for all in addressing various impacts from development.
This 3-day course is organized by the ICCROM-IUCN World Heritage Leadership (WHL) programme and the World Heritage Institute of Training and Research for the Asia and the Pacific Region under the auspices of UNESCO, Shanghai Center (WHITRAP Shanghai). The course structured in reference to the Guidance and Toolkit on conducting Impact Assessments in a World Heritage Context (July 2022), which was jointly published by UNESCO, ICCROM, ICOMOS and IUCN and the coordination of WHL.
Downloads
| | | | | |
| --- | --- | --- | --- | --- |
| No. | Name | Content | Language | Download |